Global Action Service-Learning Model
The Nobis Global Action Model is an innovative creative process approach to service-learning, designed to teach youth the six dimensions of civic engagement: values, knowledge, skills, efficacy, commitment, and empathy. It guides K-12 students to comprehend current affairs and to devise ways to respond to local, national or global issues through a solutions-based model. Students critically analyze issues that impact our society and take action in a meaningful way.
Nobis Big Ideas –
Social Justice Framework
Embedded in all our work, Nobis Big Ideas, provides a conceptual framework for thinking about global issues and building them into all community engagement work. These concepts, history, power, relationships, global citizenship and cultural responsiveness, inform classroom activities so that the experiences and knowledge of the community partner are understood through an authentic global lens.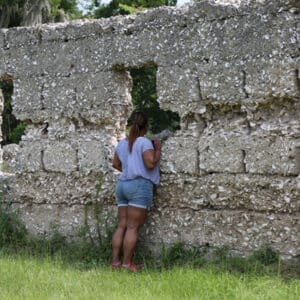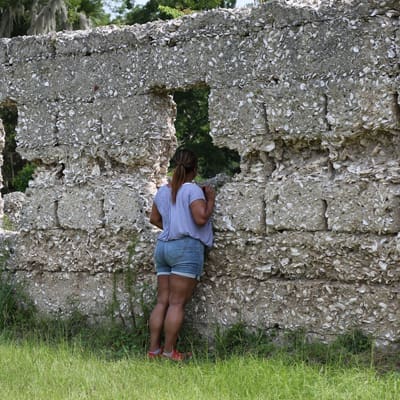 Historical knowledge is necessary for understanding the world in which we live and share with others. History is a collection of various analyses and imaginative interpretations of the human experience that seeks to explain how society has changed over time.
Collective Identity – History provides individuals and communities with a sense of identity through their understanding of a shared past. In this way, history shapes how people identify and interact with one another, often in ways of which we are not aware.
Preparing for the Future – Exposing and questioning differences in interpretations enhances our understanding of the human condition throughout time and therefore better prepares us to imagine and work towards different futures. Learning about the historical context of people, places, and events helps us to understand the immense complexity of our world and provides insights to help imagine possibilities and actively work to solve the problems of the present and future.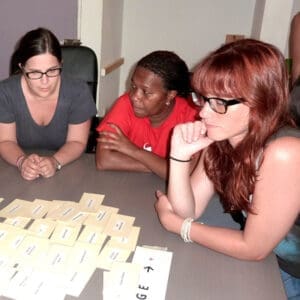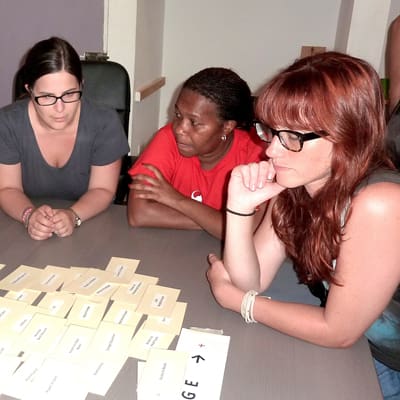 Power, as a social force, is the degree of impact of a person, institution, or system in relation to others' beliefs, behaviors, or values. Power is not necessarily only defined as 'power-over', it is also the capacity to act or to prevent an action. Power has often been defined as something one does, not something one has. Systems of power-over remain in effect only when the oppressed consents, implicitly or explicitly, to the imposed power dynamic. In principle, any person or organization is able to resist the power of others. At times, however, they may feel powerless to resist, fear failure in resisting, or perceive the social, political, economic, personal, and/or emotional cost is too great.
Privilege – Privilege operates on personal, interpersonal, cultural, and institutional levels and gives preferential treatment to one individual or group, while withholding from another. Characteristically invisible to those who have it, privileges are unearned assets granted to dominant groups, whether desired or not.
Categories of Difference – Socially constructed systems that stratify dominance or subordination on group members. These systems include gender, race, class, ability, sexual identity, age, religion, and country of origin. Often there are large implications that effect politics, food systems (such as access to clean water), and patterns of violence that stem from these categories of difference.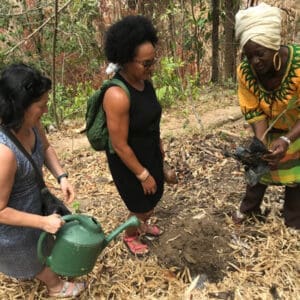 Central to the mission of the Nobis Project is the empowerment of individuals and communities; accordingly, our approach seeks to develop relationships between individuals, groups, and/or organizations in communities both locally as well as abroad. This criterion is fundamentally about responding to the needs of others, and balancing the needs of the individual with the needs of the group. Strong and diverse relationships develop in students a commitment to the welfare of others and a conviction that all people are of equal worth.
Reciprocity – Only through reciprocal community partnerships, where both parties are set to benefit, can meaningful relationships be achieved and the work of sustainable empowerment begin.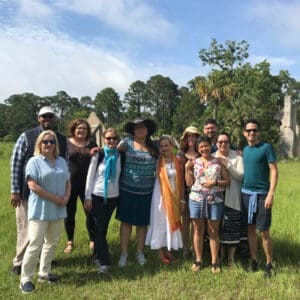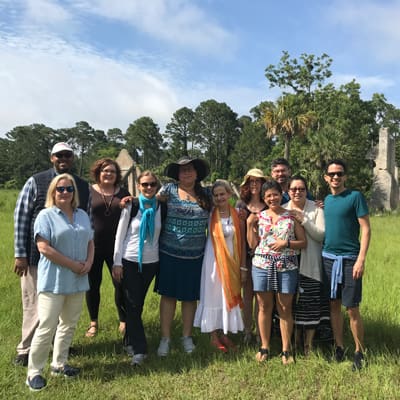 Global citizenship education consists of the development of civic engagement skills and fostering in students an understanding of humanity's shared fate and social responsibility.
Civic Engagement – Preparing students for globally relevant participation in society, at the local, national, and international levels through teaching them the civic engagement goals of knowledge, skills, values, efficacy, empathy, and commitment.
Shared Fate – Informing students of the global interdependence of humanity and the environment and how these interconnections create consequences on a global scale.
Social Responsibility – Developing in students a sense of mutual obligation and critical understanding of social rights and how to take responsible action that impacts global issues and works towards peace and social change.
A culturally responsive classroom nurtures students' curiosity and their development of respect for the values and perceptions of others. Students learn to listen to other people's thoughts, feelings, experiences and perspectives without judgment; and develop a respect for everyone with the idea that everyone has a piece of the truth. The learning environment is established in which conflicting sets of values are processed analytically and with respect for the differences in people and their cultures, identities, and world-views.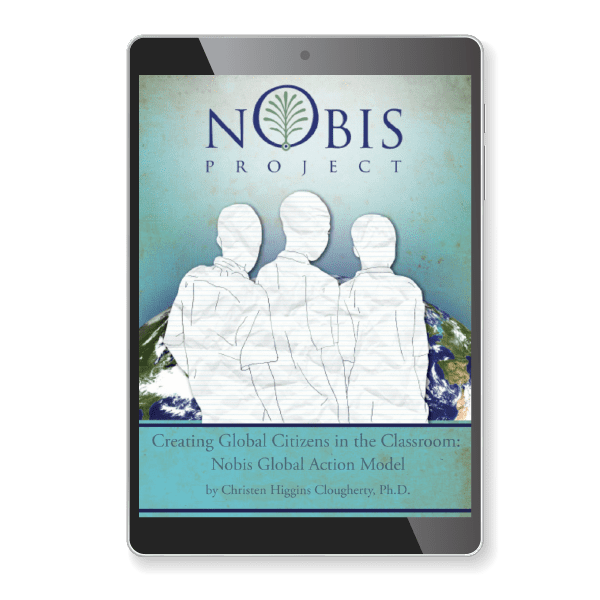 eBook: Creating Global Citizens In The Classroom
Written By: Christen Higgins Clougherty, Ph.D.
This ebook outlines the benefits and step-by-step strategies for implementing globally focused service-learning projects in your classroom. This model can also be used in your local community. This interdisciplinary model encourages inquiry and solutions-based learning among students. The goal of the program is to make students aware of our global interconnectedness and to foster respect of difference across cultures.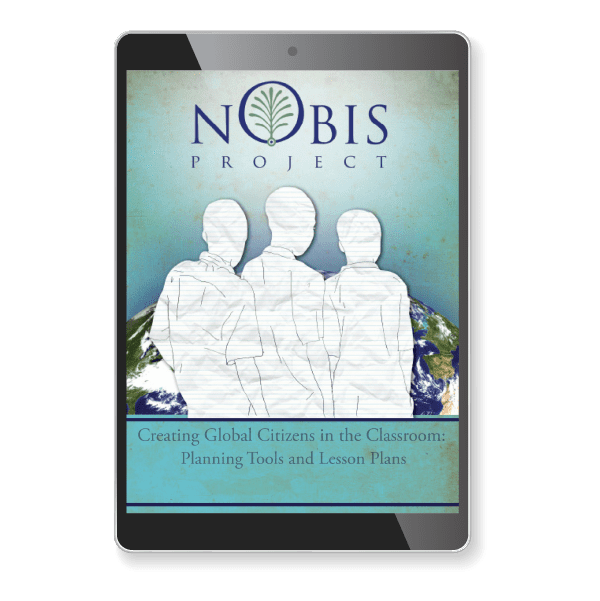 Global Education Planning Tools & Lesson Plans
Edited By: Christen Higgins Clougherty, Ph.D.
This workbook offers educators (from elementary to higher education):
tools to map out projects,

activities to jump start projects, and

sample lesson plans.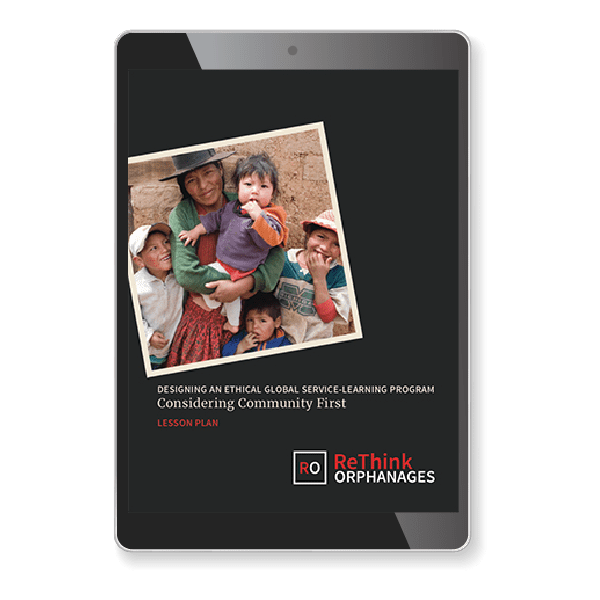 Designing An Ethical Global Service-Learning Program: Considering Community First
These lessons prepare students to engage with community partners prior to a global (or domestic) service-learning projects. Created in partnership with Rethinking Orphanages.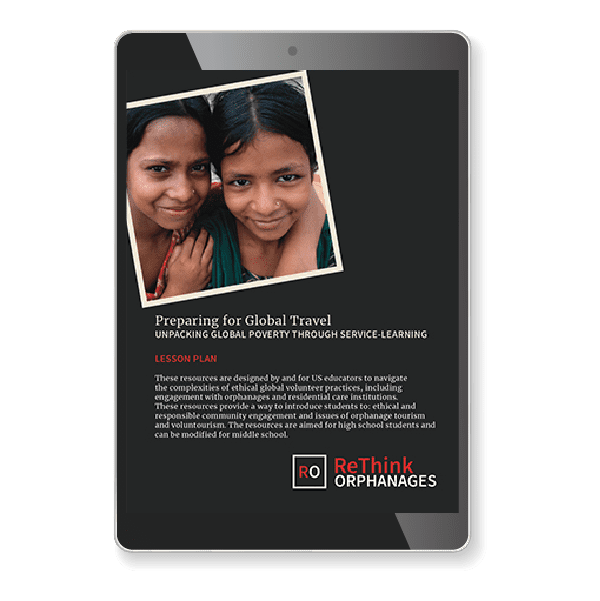 Preparing for Global Travel: Unpacking Global Poverty Through Service-Learning
These resources are designed to help educators to navigate the complexities of ethical global volunteer practices.  Created in partnership with Rethinking Orphanages. 
Virtual Modules 
Free short videos that highlight stories from sites in Savannah and Sapelo Island. Videos are paired with critical reflection questions and additional teaching resources. Explore modules >>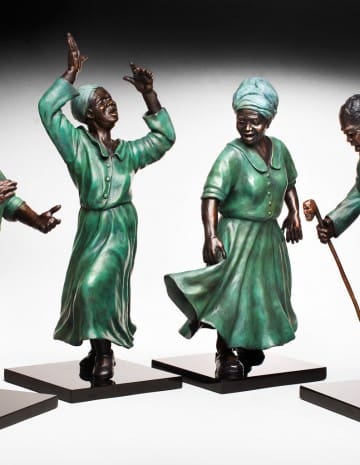 Nobis Project is committed to working hard to make participation in Nobis World programs as affordable as possible. There are a limited number of scholarships available for teachers. Because aid is limited, please carefully consider all the resources available that might help fund your trip before deciding how much aid to request. You can apply for a scholarship by completing the appropriate sections of the application form.
Additionally, we encourage teachers to explore alternative funding sources and recommend you:
Speak with your school's principal and/or professional development coordinator. Inquire about available professional development funds or grants that your school district or state offers.
Contact your school's PTA about available professional development funding support.
Contact professional or community organizations of which you are a member.
Contact your local Rotary Club, their main objective is "service — in the community, in the workplace, and around the globe" of which the Nobis World programs meet all three.
HIDDEN
Your content goes here. Edit or remove this text inline or in the module Content settings. You can also style every aspect of this content in the module Design settings and even apply custom CSS to this text in the module Advanced settings.
Grants
There are a tremendous amount of small grants available for educators. With a little bit of time and energy you maybe able to have a part to your whole trip funded. Nobis Project has prepared these Grant Writing Tips for teachers to use. And we have complied this list of grants we have come across that could be used towards a Nobis World program. Please let us know if you come across any other applicable grant opportunities so that we may spread the word for teachers in the future!
Grants for Classroom Projects
Kids in Need Foundation – Kids In Need Teacher Grants provide K-12 educators with funding to provide innovative learning opportunities for their students. The Kids In Need Foundation helps to engage students in the learning process by supporting our most creative and important educational resource — our nation's teachers.
Donors Choose – Site offers public school teachers the ability to post classroom project requests on their site in order to solicit funding, and then viewers can donate any amount to the project that most inspires them.
Ezra Jack Keats Foundation – awards $500 to public schools and public libraries for projects that foster creative expression, working together and interaction with a diverse community.
Target Stores Field Trip Grants – Available to K-12 schools nationwide. Each grant is valued up to $700. Grant applications accepted between Aug. 1 and noon CST Sept. 30.
If you know of other funding opportunities for teachers that are not featured on our website, please let us know!
Other Teacher Travel Opportunities
If you know of other travel programs for teachers that are not featured on our website, please let us know!