Empowerment
Through Social Action
Learn more about the Nobis Project
Nobis Project is a non-profit educational organization, founded in 2008, whose mission is to inspire purpose, pivot mindset, and activate agency. Nobis Project supports and collaborates with educators in developing community engagement experiences that prepare student leaders to create a more just, sustainable, and equitable world.
Global Experiences
Through self-reflection, cultural immersion and critical service-learning, participants learn how to build reciprocal community partnerships, challenge inequity and oppression, and become informed, caring, global citizens.
Workshops & Consulting
Customized services tailored to meet the needs of educators, schools, administrators and community leaders looking to enhance their approach to ethical community engagement practices; teaching about structural inequality; implementing critical service-learning; and embedding critical reflection.
Resources
Educators, scholars, and community partners come together to develop and pilot educational materials and civic engagement and social justice programs for classroom and community use. Nobis Project then freely shares these resources.
Experience Nobis World Field Study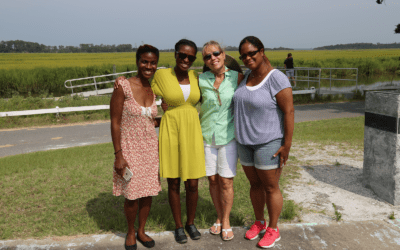 August 7-9, 2021
Black Land Matters: A Gullah-Geechee Field Study
read more
If you have come to help me you are wasting your time. But if you have come because your liberation is bound up with mine, then let us work together.
Schedule a Call
Do you want to talk about specifics? Access our online calendar to select a time to talk. Click here >>