Founder, Christen Higgins Clougherty, Ph.D., regularly presents at schools and conferences. We are interested in partnering with content creators around social justice, education, and global learning.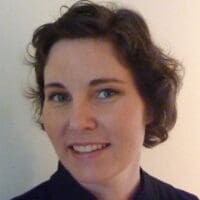 Christen Higgins Clougherty, PhD
Founder and Executive Director
Christen brings over eighteen years of experience as an educator and administrator in community organizations, K-12 public, charter and independent schools, and colleges/universities. Christen attributes her commitment to using service-learning and civic engagement to promote global citizenship to her experiences as a student at the Carolina Friends School. Her honors include recognition as a National Emerging Scholar for K-12 Service-Learning Research (2008 and 2009) by the National Service-Learning Partnership at the Academy for Educational Development. Christen received her Ph.D. in Quaker Studies from the University of Birmingham in the United Kingdom. She  completed her doctoral research on the synthesis of experiential education, service-learning, creative-process theory, and global citizenship education. Her Masters of Arts is from Savannah College of Art and Design where her thesis explored how socially conscious artist instigate social change. Christen is also a founding board member of two charter schools in Savannah, GA; Tybee Island Maritime Academy and Susie King Taylor Community School.